Wooden Nickel Buffalo Farm:
High-Quality Grass-Fed Bison Meat in Edinboro, PA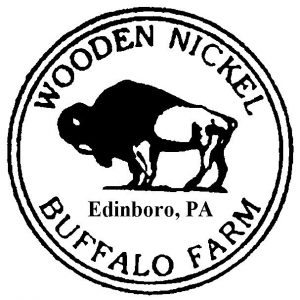 Welcome to Wooden Nickel Buffalo Farm
Wooden Nickel Buffalo Farm, a three-generation family-owned farm that has sold high-quality bison meat to customers for over 20 years. Our mission is to provide high-quality, 100% grass-fed bison meat. We promise lean protein, nutrient-rich, and delicious-tasting bison meat. In addition to our bison meat products, we also offer a range of family-friendly attractions, including a petting zoo, a corn maze, and a pumpkin patch. Usually, visitors can also see the live bison in the fields and learn about the history and ecology of these majestic animals.
Locally Raised Bison Meat For Sale
Grass- Fed Bison Meat
Our bison roam a 100-acre local farm using sustainable farming and humane practices. Additionally, we offer a range of bison meat products, including:
Bison steaks
Bison burgers
Bison hotdogs
Bison jerky
Bison bones for pets
**Current Special: One-pound grass-fed bison burger bricks.
$13.99 each. Five bricks for $60. Box of 12 for $140.
Fun Farm Activities For All Ages
Gift Shop
The gift shop offers many bison-themed products, including t-shirts, hats, and stuffed animals. We also sell locally-made crafts and artisanal foods. Let's not forget that we are a farm; we have farm-fresh eggs from chickens and ducks. May 1, 2023, is when we will officially open our doors for the season, and the shop will be open from 11 am to 5 pm. Until then, we are by appointment only. Of course, you can make an appointment by contacting us.
Petting Zoo
Family-friendly attraction! Want to give your little ones an educational experience they'll never forget? Try our small petting zoo with many friendly farm animals, including goats, donkeys, chickens, and more. Visitors can enjoy animal encounters by petting, feeding, and getting hands-on learning about their care and behavior. In essence, they are out there year around and love to have visitors.
Corn Maze and Pumpkin Patch
Fall activities, our corn maze is a family-friendly activity that challenges visitors to find their way through a twisting and turning maze of corn stalks. In the fall, our pumpkin patch offers many pumpkins in all shapes and sizes, perfect for Halloween and pumpkin carving.
Live Bison Viewing
There are many trails throughout the farm for you viewing pleasure of our live bison in the fields. We also offer guided tours of the farm and educational programs for and groups that want to learn more about these majestic animals.